A Chicago police officer pleaded guilty Monday to his role in a multi-million dollar gambling ring in the case that led to January's pardon of Mettawa Mayor Casey Urlacher by then-President Donald Trump.
Nicholas Stella, 43, pleaded guilty to conspiring to conduct an illegal gambling business. He is the fifth defendant in the case to plead guilty, and the fourth since Trump pardoned Urlacher, the brother of Chicago Bears great Brian Urlacher. A CPD spokesperson said Monday that Stella's status with the department was "inactive."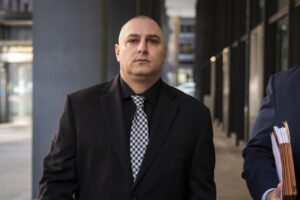 Nicholas Stella walks out of the Dirksen Federal Courthouse, Wednesday morning, March 4, 2020.Ashlee Rezin Garcia/Sun-Times
Back in January, U.S. District Judge Virginia Kendall ordered Stella into the downtown Metropolitan Correctional Center after prosecutors alleged that he "violently assaulted his girlfriend" during an incident at the Crowne Plaza hotel in Rosemont.
Kendall set Stella's sentencing hearing for June 22.
A February 2020 indictment filed against Stella, Vincent "Uncle Mick" DelGiudice, Casey Urlacher and seven others alleged that Stella was among the agents recruited by DelGiudice, who has since admitted running a gambling ring around Chicago from 2016 until 2019.
The indictment alleged that Stella spoke to DelGiudice by phone in December 2018 to complain that a Costa Rican company paid by DelGiudice for the use of a gambling website had taken down a game. It also alleged that Stella texted DelGiudice on Jan. 22, 2019, asking him to send a message telling gamblers to "settle up" after the Super Bowl.
Stella shared winnings and losses with DelGiudice on a 50% basis, according to Stella's 15-page plea agreement. He also swapped text messages about gamblers with DelGiudice in December 2018, stating, "Between my two big losers in Minnesota, they've dumped 73k," according to the document.
In January, prosecutors also alleged that, after a judge issued a search warrant for Stella's phone, Stella destroyed it "before we were able to execute the search warrant."
"He was the only [defendant] who destroyed his phone and did not surrender it," Assistant U.S. Attorney Terry Kinney told Kendall at the time.
Kinney revealed that detail as he argued that Stella should remain behind bars following the alleged assault on Stella's girlfriend. During that hearing, Kinney also played a recording of a 911 call placed by the girlfriend after the alleged attack.
During the call, the woman sounded distraught and out of breath. She said her boyfriend had tried or threatened to kill her, choked her, stole her phone and ripped her clothes. She told the 911 operator, "he's a cop," and she identified Stella by name.
Kinney said that Stella had "committed repeated domestic batteries," including one in which he allegedly pulled out his gun in his girlfriend's presence. After the alleged assault in Rosemont, Kinney said Stella took his girlfriend's phone, accessed her text messages and posted them online so people could read them.
Though a defense attorney argued in January that Stella's girlfriend had been drinking and was on medication at the time of the alleged attack, Kendall pushed back. She called the allegations against Stella "illegal," "horrible" and "inappropriate," and she said authorities had laid out to her "a pattern of three incidents of violence over a very short period of time by someone who has power and control over a vulnerable woman."