Blockchain analysis firm, Chainalysis' latest crime report has named Mirror Trading International (MTI) as the biggest cryptocurrency scam of 2020. Chainalysis arrived at this conclusion after an investigation found that MTI had taken in $589 million from more than 471,000 deposits. According to the report, MTI's haul is significantly higher than that of Forsage and J-enco, the next biggest scams. Both scams raked in less than $350 million each.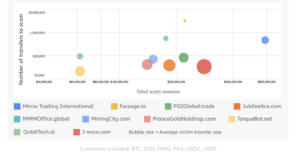 Meanwhile, in the report's brief focus on MTI, Chainalysis reveals that more than half of MTI's web traffic had originated from South Africa. On the other hand, Canada, Mexico, the United Kingdom and the U.S together account for nearly a quarter of the remaining web traffic. Using this web traffic data, the blockchain analysis firm concludes that "most MTI victims hail from these countries in similar proportions as well."
Separately, the blockchain analysis firm's report also found that the BTC that was sent to MTI came "primarily from exchanges." The so-called self-hosted wallets were also used. The report then details how MTI resorted to using a popular gambling service to launder investor funds. The report explains:
As noted by one venture capitalist Dovey Wan, this use of gambling platforms has become "a common money laundering technique for many cybercriminals who use cryptocurrency." This is because gambling platforms can be "used similarly to mixers to obscure the origins and flows of illicitly-obtained funds."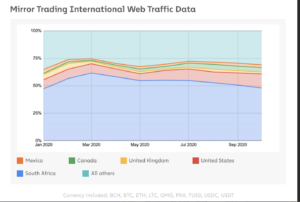 How MTI Lured Its Victims
As has been reported by news.Bitcoin.com, MTI succeeded in luring unsuspecting victims by promising consistent daily returns of 0.5%. This rate of return would translate to "yearly gains of 500%." On its website, MTI claimed that these high returns were guaranteed by "its AI-powered foreign exchange trading software."
However, MTI's unrealistic promises soon led to scam allegations. Initially, executives of MTI denied allegations they were operating a multi-level marketing scam after regulators in the U.S. and South Africa pounced on the company. Still, sometime after the Financial Sector Conduct Authority (FSCA) raided homes of some MTI executives, reports emerged of investors failing to withdraw their funds. As pressure grew, CEO Johann Steynberg eventually disappeared with investors funds. This ultimately led to the collapse of MTI.
In the meantime, the Chainalysis crime report concludes that the MTI scam is one good example of "why the industry must spread the word that algorithmic trading platforms promising unrealistically high returns are nearly always scams." The report also says that cryptocurrency exchanges and other services must "discourage users from sending funds to those addresses or at least warn them that financial losses are highly likely."
Credit: Source Link